St Patricks Day Desserts: A Delicious and Memorable way to Express your Irish Side!

If you are looking for perfect St Patricks Day desserts to add life to your party, you have definitely come to the right place.
We love talking about where Irish foods 'come from,' so we can't resist offering a little commentary about these desserts.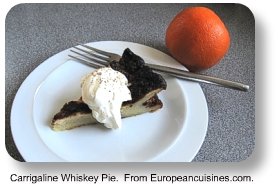 But if you just want to get to the recipes, go for it! They start halfway down the page.
In the meantime, let's just say there is nothing quite as delicious as traditional St Patricks Day desserts, unless of course it's the modern version of those desserts!
Should you desire many more examples of Irish food recipes, please visit our main Irish food section here...
Meanwhile, please enjoy some delicious St Patricks Day desserts!
Overview:  St Patricks Day Desserts

Some of the most delicious Saint Patricks Day desserts have been part of the Irish culture for centuries.
Chocolate potato cake, seed cakes and Carrigaline whiskey pie are all traditional desserts some of them dating back to the early 1700s, when they first appeared in cookbooks.
The newer St Patricks Day desserts contain Irish spirits such as stout, Irish cream or Irish whiskey - or they're symbolic of Ireland, in shamrock shape or green.
Chocolate Potato Cake

Chocolate isn't native to Ireland, but once the Irish tasted imported chocolate, in the late 1600s they had to have more.
In fact, still today the irish consumption of chocolate, per capita, is one of the highest in the world.
This particular cake has cooked mashed potatoes in it to add extra moisture. To remain traditional requires that we use cocoa instead of chocolate.
However, if you want modern day richness, try substituting grated dark chocolate for the cocoa.
Most recipes call for ½ pound of butter, so it isn't diet food. Don't try substituting with lower calorie butter imitations; you'll destroy the rich flavor of this mouth-watering St Patricks Day dessert.
Chocolate Potato Cake:  Ingredients
1-C. potatoes mashed (no butter or milk added)
1-stick of butter softened
3/4-C. Buttermilk
2-C. all purpose flour
2-C. sugar
4-1 ounce squares of baker's chocolate
4-eggs
1-Tbsp. baking powder
1-Tsp. salt
1-Tsp. baking soda
1-Tsp. vanilla
1-C. chopped pecans, walnuts or raisins (optional)
Chocolate Potato Cake:  Preparation
Preheat oven to 350 degrees.
Melt the chocolate, either in a microwave, double boiler or in a dish over hot water.
In a large mixing bowl put all other ingredients (except optional ones) and blend well. Use an electric mixer on low speed, to continue mixing for four minutes.
Add the melted chocolate. Mix well and add optional ingredients.
Grease a 9X13X2 inch pan and pour in batter.
Bake for 45 minutes. Test for doneness by inserting a toothpick into the center of the cake. If the toothpick comes out clean, remove from the oven.
Frost the cake with your favorite frosting, sprinkle powdered sugar or serve plain.
Seed Cakes

Seed cakes are more quick breads than cakes, but good for those who don't want a heavy St Patricks Day dessert.
Caraway is the seed of choice for many Irish dessert breads, but you can also use poppy seeds, anise or sesame and still not break tradition.
In most cases, if the seed cake is for a special occasion, it often has a bit more butter than traditional quick breads do.
Not only are caraway seed cakes good St Patricks Day desserts, they're a very popular tradition at Christmas as well.
You can make almost any type of seed cake from sesame seed to poppy seed, but the one most associated with Ireland is the caraway seed cake.
It's a quick bread and a light delicious treat, perfect as a divine ending for any meal or a quick snack.
Seed Cakes: Ingredients

1 1/2 – sticks of butter (12 tablespoons)
3-eggs
1-cup granulated sugar
2 ¼-cups flour (You'll use 2 cups in the recipe and ¼ for flouring the pan)
2-tablespoons caraway seeds
¼-teaspoon baking powder
2-3 teaspoons finely chopped almonds (optional)
Seed Cakes:  Preparation

Preheat the oven to 350 degrees.
First grease, then use the ¼ cup of flour to coat a loaf cake pan or line the pan with parchment.
Mix butter and sugar together until it has a creamy consistency.
Beat eggs until smooth and creamy yellow.
Slowly add the creamed butter to the eggs, mixing constantly as you add it.
Sift together the baking powder and flour, then add in caraway seeds and almonds. Mix the flour combination into the egg/butter mixture slowly, beating it constantly.
Pour mixture into pan and bake for 50 to 60 minutes. Some people put extra caraway seeds on top of the mixture before baking.
Remove the seed cake from the pan onto a cooling rack. You can sprinkle powdered sugar on top, frost or serve plain.
Carrigaline Whiskey Pie

When you think of traditional Irish spirits, you normally think of whiskey first. Of course, the vegetable of choice is the potato.
Carrigaline whiskey pie combines the two unto an unforgettable St Patricks Day dessert.
You start the recipe as though you're making a soufflé by whipping egg whites and beating the yolks with sugar - then the magic really begins!

You add orange juice, mashed almonds and mashed potatoes to the already blended beaten yolks and fluffy whites and pour it in a springform pan.
If it looks like a pie or a soufflé or cake that fell when you finish, you've succeeded in creating the delicious recipe.
If your mouth isn't already watering, it's because you've never eaten Carrigaline whiskey pie and don't know how delicious this St Patricks Day dessert really is.
Carrigaline Whiskey Pie:  Ingredients

½-pound boiled potatoes mashed well until lump free (This makes approximately 1-1/4 cups)
¾ pounds of granulated sugar (approximately 1-3/4 cups)
¼-pound butter—1 stick—melted
2-tablespoons juice from fresh bitter Seville orange or 1-tablespoon orange extract
3-pounded almonds
4-fluid ounces of Irish whiskey (approximately 2 -2/3 shots)
6-eggs
Carrigaline Whiskey Pie:  Preparation

Butter and flour a 9 X 2 ½-inch springform pan (21-sm). Line the bottom with parchment and butter it as well.
Preheat your oven to 375 degrees Fahrenheit.
Separate the eggs and beat the yolks until a creamy lemon color. Set the whites aside. Slowly beat in the sugar. The mixture should appear almost fluffy.
Add the potatoes and beat well until completely combined with the egg yolk and sugar mixture.
Add in the pounded almonds, melted butter, orange juice and whiskey, continuing to mix as you do so.
Whip the egg whites you set aside earlier.
Slowly fold the whites into the potato/egg mixture until well blended.
Pour into the springform pan and carefully put into the oven.
Bake for approximately 40 to 45 minutes.
Remove from oven carefully and gently set it down to cool. It will fall, which is normal for a soufflé. You can eat the whiskey pie cold or slightly warm.
Modern St Patricks Day Desserts

Today, almost any type of rolled cookie with a shamrock shape is fair game for an Irish dessert. Green frosting also reigns high on the list of more modern St Patricks Day desserts.
The ones that make us beg for more are those containing Bailey's Irish Crème or bold black Guinness.
Even adding Bailey's to coffee is a St Patricks Day Dessert without the baking!
Two desserts among the many that stand out are Bailey's mousse pie and Guinness cake.
Bailey's Mousse Pie

You'll need both Bailey's Irish Crème and Irish whiskey for this one. It's not only a good St Patricks Day dessert, it's an after dinner drink.
Since you don't heat the alcohol, it remains as potent as it was before it became part of a pie.
Gelatin, whipped egg whites and whipped cream give body to the pie, but so does putting it in the freezer before serving.
Don't substitute low calorie cool whip for the whipped cream or it won't be a real Irish dessert.
We're going to offer you two versions of the Bailey's mousse pie recipe. One is more authentically Irish since there's additional Irish whiskey, real cream and no Cool-Whip.
However, it takes longer to make and requires freezing before serving.
It's also a bit more alcoholic than the other "Americanized" version, due to the addition of the extra Irish whiskey.
We like the second just as much since it's far easier to make and tastes just as yummy, but you make the call!
Bailey's Mousse Pie:  Ingredients

1-envelope clear gelatin powder
3-egg whites
1-cup of heavy whipping cream
6- fluid oz milk
¼ -cup sugar
3-fluid oz of Bailey's Irish Cream
3-fluid oz of Irish whiskey
2-teaspoons cocoa
2-teaspoons instant coffee crystals
1- homemade or purchased graham cracker crust pie shell
Bailey's Mousse Pie:  Preparation

Blend half the milk with the Irish whiskey and Bailey's in a small bowl. Set the mixture aside.
In a saucepan or microwavable bowl, mix the last 3-fluid oz of milk with the cocoa and coffee crystals briskly with a whisk until blended.
In another bowl, beat egg whites to a soft peak and begin slowly adding sugar until you reach stiff-peak stage.
Whip the cream in a small bowl until firm.
Use either a stove—if you used a saucepan—or microwave—if you used a microwavable bowl—to heat the cocoa/coffee/milk mixture to scalding stage where it's steaming hot, but not boiling, then whisk in the package of gelatin until blended.
Pour coffee/cocoa/milk mixture into large bowl and continue to whisk as it cools slightly.
Add the blend of Bailey's, milk and whiskey to it and continue whisking.
Fold the whipped cream and egg whites together, then gently fold into the Bailey's/coffee mixture.
When completely combined, pour the combination into the piecrust and chill in the refrigerator overnight. Transfer it to the freezer one hour before serving.
Top with grated chocolate and whipped cream to serve.
Store the leftover pie in the freezer. It stays flavorful for a week.
Easy Bailey's Chocolate Mousse Pie:  Ingredients

1-envelope unflavored gelatin
1-ready made or homemade graham cracker or chocolate piecrust
3/4-cup milk
1-teaspoon vanilla
3/4 –cup Bailey's Irish Cream
2-cups frozen Cool-Whip—thawed
6-oz package semisweet chocolate chips
Easy Bailey's Chocolate Mousse Pie:  Preparation

Put milk in a saucepan and sprinkle the gelatin over it. Allow it to stand for a minute
Heat milk over low heat, stirring until the gelatin dissolves. It takes approximately 5 minutes.
Add chocolate and continue to stir constantly until the chocolate melts. Add the vanilla and continue stirring.
Remove the mixture from the heat, occasionally stirring and allow it to cool slightly. Normally five minutes is plenty. Add the Bailey's. The mixture will thicken as it cools. When you can form mounds when you drop it from a spoon, fold in the whipped topping.
Chill four hours before serving.
Garnish with chocolate curls or dapples of Cool Whip.
Guinness Cake

Guinness cake is a type of fruitcake similar to the traditional porter cakes of yesteryear.
In some versions, it has simply raisins and citrus peel, but others use candied fruit and nuts.
When you make Guinness cake, put it in a tight container and reserve a bottle of Guinness.
Simply pierce the top of the cake and add more of the stout right before serving this delicious St Patricks Day dessert.
Guinness Cake:  Ingredients

2-12 oz. bottles Guinness stout
2-sticks butter softened
3-oz chopped candied fruit peel
½ -pound golden raisins
½ -pound dark raisins
3-2/3 –cups all purpose flour
1-tsp baking powder
1-tsp pumpkin pie spice
1-tsp grated or ground nutmeg
2-eggs
1-cup light brown sugar
A pinch of salt
Guinness Cake:  Preparation

Preheat oven to 350 degrees Fahrenheit. Use parchment or wax paper to line the sides and bottom of an 8-inch round cake pan with 2 ¾ inch or higher sides or a loaf pan.
Sift together the flour, pumpkin pie spice, baking powder, nutmeg and salt. Rub the butter into the flour mixture, and then add the brown sugar, peel and raisins.
In a separate bowl, whisk the eggs until creamy yellow and add one 12-oz bottle of Guinness.
Blend the egg mixture with the dry ingredients until well mixed.
Pour batter into the cake pan and bake for 2 hours. Cover the top with aluminum foil if it begins to brown too quickly—normally after approximately an hour.
Insert a toothpick in the center and if it comes out clean, remove the cake from the oven and allow it to cool for approximately 20 minutes before turning it out of the pan onto a wire rack.
After it's cool, you can drizzle or mist the cake with some of the remaining Guinness. Let the cake mellow for several days before serving. You can drizzle more Guinness as necessary.
Hungry for More Irish Recipes?

Sharing Irish food is one of our favorite ways to enjoy an Irish experience, wherever in the world we happen to be!  
The flavors of an Irish meal, and the stories that come along with many Irish recipes, gives us a sense of connection with the Emerald Isle.
Delicious!  Where Can I Find More?

At Irish Expressions, our our goal is simple: to provide you with a unique Irish experience, on demand, wherever you are in the world.
If you have enjoyed our section on Irish Food Recipes, you have probably been exposed to many of the most delicious flavors that Ireland has to offer!
Will that entice you to visit Ireland - or to return if you have already been? 
We hope so!  
But even if that is not possible, you can still enjoy the magic of Ireland in these pages.  Check out the links at the top of the page for simple instructions on how to explore Irish landmarks, enjoy Irish food, practice Irish customs, and much more!
You can also visit us on Facebook, Twitter or Pinterest to see amazing pictures and interact with amazing people who share a love of Ireland.
We would love to hear from you - please send us a note here and let us know how we are doing. 
Until then - thanks for visiting St Patricks Day Desserts!  Please continue exploring your Irish side at Irish-Expressions.com.
Express Your Irish Side With Real Irish Gifts
My friend Stuart Marley and his wife Meredith are the founders of Real Irish Gifts and Travel, one of the finest Irish-themed businesses I have encountered. They have been operating since 1999. 
Members of the Irish Expressions community (that's you!) get 15% off anything in their online store, 365 days a year.  Simply click on the link below and receive your discount automatically at checkout.  Enjoy!

Want to Feel More Connected to Ireland?  Here's How!
At Irish Expressions we believe everybody – well almost everybody! - has an "Irish side."  So how nice would it be to have access to a fun, free Irish experience, on demand, wherever in the world you happen to be?
Over the years we have compiled many free, downloadable resources including lyrics, recipes, games, jokes, blessings and much, much more.  
Would you like to receive them all for free?  Simply share your email for instant access!
ENJOYING IRISH EXPRESSIONS?  PLEASE SHARE!